Did you know that you may already be using cloud computing for your business without even realizing it?
If you send emails, manage your social media pages or even access online banking, you are already reaping the benefits of moving your business to the cloud.
If you are accustomed to the world of in-house servers, downloaded software, or application based IT, you may be among those that tend to be a tad bit skeptical of the cloud. If so, you are not alone. In fact, you may already use cloud computing for your Boston business without even realizing it. If you send emails, manage your social media pages, access online banking, or even use an app to track a package from your shipping company; your business is in the cloud. Most of the small businesses in the U.S already rely on the cloud for some of the daily operations of the company, whether they realize it or not.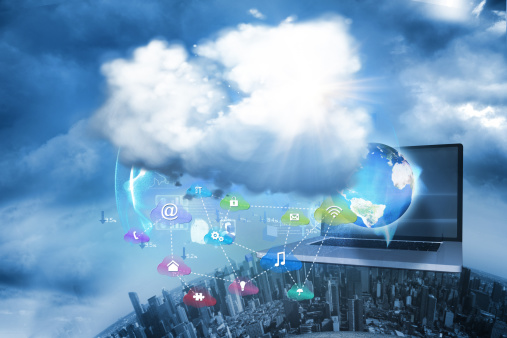 What exactly is cloud computing anyway? This term is used to describe internet based computing where we all share resources through a network of computers used to process, store and access information instead of a single on-site server/machine. This cloud technology provides the ability for people to use the internet to access similar applications with the main advantage being the convenience of everyone having access to their business or personal files from anywhere.
When we hear the word "cloud," it conjures an image of a bubble of information dancing above our heads. In reality, it is a network of many computers located in various locations all over the world. So, how can Radius Executive IT Solutions benefit from a cloud solution? Here are 5 reasons to move your business to the cloud:
5 Reasons Your Business Needs to Move to the Cloud
The Cloud Lets You Focus on Your Business – Computing in the cloud allows your business to focus on what they do best instead of being consumed with IT issues. As a business owner, you will have less worry about hardware and drive space, and your web-based applications will run effortlessly with the powerful network of servers at your disposal.
Increased Productivity – Productivity in your company will increase when everyone can easily access the documents they need to get the job done. Working in the cloud lets your team work more efficiently together and share ideas in an instant. Cloud-based file sharing apps typically make updates from employees in "real time" for instant access and immediate sharing.
Be agiler – Avoid infrastructure issues with cloud solutions. Gone are the worries of buying new software, selecting the appropriate hardware, then painfully installing it all! Also, the problem of disposing of all the old servers and equipment will no longer exist. This is particularly useful for small businesses with limited funds and no dedicated IT department.
Moving to the Cloud Saves Your Business Money – At first, it might appear that the new subscription fee charged versus the usual license fee may seem more expensive. Be sure to recognize that you will no longer have any maintenance issues or high IT expenditures. The cloud is virtually maintenance free for your business, and this creates a substantial saving for your company in the long term.
Work from Anywhere – Let's face it – nothing beats the flexibility of cloud computing. With the ability to work from anywhere you have an internet connection, it just can't be beaten. Most businesses and employees love the flexibility and ability to work from home, which has been shown to increase productivity.
Want to move your business to the cloud? Contact us via email at info@radiusits.com or call us at (978) 523-2174 to learn more about what the cloud can do for you.