How Do Phishing Scams Work?
You may have heard of the term "phishing," but you may not be completely aware. If you operate a business or even conduct any kind of transactions online – which represents the majority of people – you may be susceptible to a phishing attack. When executed correctly, a phishing attack can leave you or your business in major personal or financial trouble.
In this post, we'll dive deeply into defining a phishing scam, understanding the common traits, and identifying the various types of scams. Finally, we'll look at what you can do to prevent a phishing attempt from disrupting you or your organization.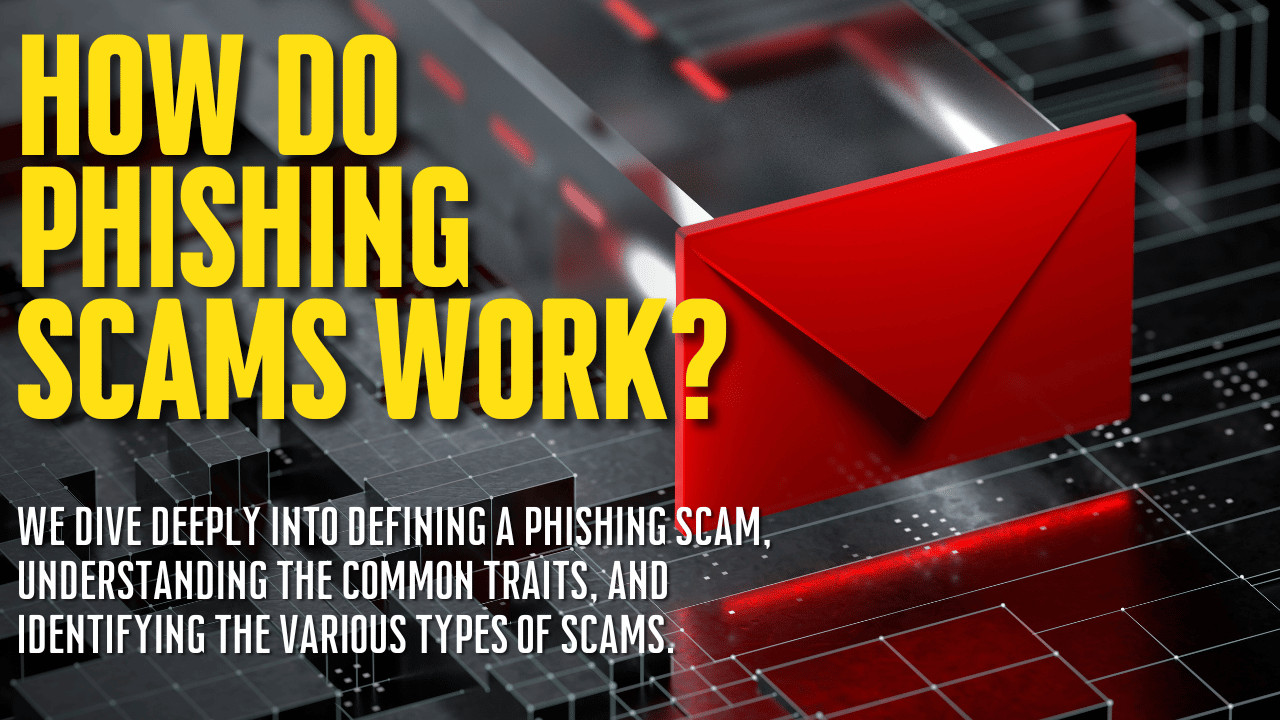 What is a Phishing Scam?
A phishing scam starts with a hacker or malicious actor reaching out to you. These individuals are looking to access information that you hold. To gain access to this, they'll attempt to contact you (usually by email, but it can also be via phone or text) with a message prompting you to click on a link.
These scams use social engineering tactics compelling you to comply (more on those below). Once you or someone within your organization clicks the link, it may then upload destructive malware or viruses to your device, system, or network. This malware then provides them access to your personally identifiable information (PII), financial information like credit card numbers, or other information you don't want falling into the wrong hands.
How a Phishing Scam Works
As noted above, phishing scams use social engineering tactics to trick recipients into complying with a requested action. Hackers will pose as an institution the individual knows or trusts to gain their trust.
For example, let's say you receive an email from your bank asking you to log in to your account due to a problem. At first glance, the email may appear legitimate as it contains your bank logo and a similar font. But have your bank ever contacted you in this way before? The answer is likely no, as banks don't ask you for information like this over email.
Everything from the email address the hacker uses to the language they use in the email might appear legitimate. That's why it's important to examine them carefully and err on the side of caution.
The Common Traits of a Phishing Scam
Every phishing attempt looks different, but they tend to have some traits in common across attacks. For one, email phishing attacks prompt you to click a link within your email.
Additionally, many attacks attempt to create a false sense of urgency. They'll say there's an issue with your account or suspicious activity that you'll need to log in to resolve. This is, of course, a ruse meant to create a feeling of panic in the recipient. The hackers are banking on you, reacting without thinking.
Other phishing scams mimic or recreate an email address for a friend or family member. Have you ever gotten an email from a family member that contained a link but didn't look right? It was almost certainly a phishing attempt.
You may also get an email from what you believe to be a trusted source, like your employer or healthcare provider. If the email looks suspicious, it likely is. Your default stance should always be to follow up with the sender to confirm the email's legitimacy.
It bears repeating: if anyone asks you for any type of sensitive information over an email, text, or phone, you're probably on the receiving end of a phishing attempt.
The Different Types of Phishing Scams
While phishing attempts happen over email, similar attacks happen over phone or text. Email phishing scams involve you clicking on a bad link. The other types of scams have different tactics with the same desired outcome for the hacker.
In the case of phone attacks (also known as vishing), you'll receive a call from someone asking you to relay personal information over the phone. You may even be prompted to dial a specific number. These attackers often spoof numbers from trusted institutions like your bank. They might tell you that a friend or family member needs assistance to increase your feeling of urgency. They can also ask you to verify personal information to authenticate your identity to them – when, in fact, they're stealing the information themselves.
Another common phishing scam is attacks conducted over SMS text messages (also known as smishing). These operate similarly to email attacks. You'll receive a text from someone or some institution you trust asking you to click on a link.
How to Respond to a Phishing Scam
The first step is to be aware that phishing scams exist. Knowing what they might look like helps you know what to watch out for. If you are part of an organization, create this culture of awareness with your team. By educating your staff on what to expect, you'll be able to prevent them from impacting your business in the future.
But what happens when you do receive a phishing attempt? The most important action you can take is this: nothing at all. Don't interact or engage with a phishing attempt. If it's a text or email, don't click the link. If you're on the phone with someone attempting to scam you, don't engage – simply hang up as soon as possible.
Phishing Scams are Growing Increasingly More Common
In summary, phishing scams tap into sophisticated social engineering techniques, using people's fears to gain access to sensitive information. This information can then be used to defraud the person or organization financially or steal their identity. They can be carried out over email, phone, or text message. When you get a phishing attempt, the best action is no action. Don't engage – just block and delete.
The sad reality of phishing scams is that they aren't going away anytime soon. You can't prevent them from happening. All you can do is maintain awareness and constant vigilance of an attack possibly occurring. Be wary of emails that look suspicious and even those that don't – as phishing strategies become more complex, you'll be more likely to fall prey to one. Exercise utmost caution when communicating with anyone over email, phone, or text.
Contact us today for more on how we can help your organization navigate phishing attempts or provide other managed IT services.