There are two main issues involved in safely disposing of old computers (one could say "recycling" is a better word than disposal). One deals with completely erasing hard drives of any protected, classified, or restricted-access data, and the other has to do with the eco-safe disposal of the hardware itself. With so much focus on so many abstract aspects of computing, such as cybersecurity and cloud services, proper hardware security and retirement may get overlooked as companies push legacy computing systems aside for the new-generation rollouts. It is, in fact, equally as important to securely and safely retire old computer hard drives, and by the end of this post you will know how to do this.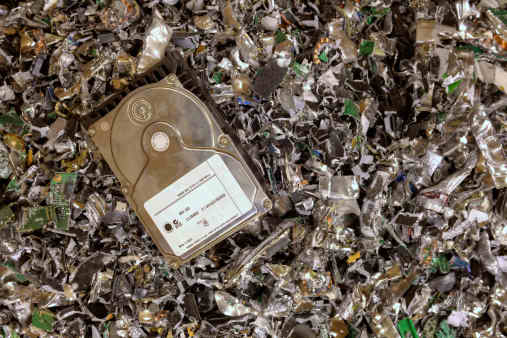 When disposing of an old computer, you need to completely erase its hard drive. Not doing this will expose you to post-disposal data theft and exploitation. Cybercriminals are very aware of the rate at which PC users are disposing of old computer hardware, and will also look for disposed-of hard drives in order to scavenge exploitable data like private financial data, transaction details, credit or debit card numbers, and personal ID information. Clearing a hard drive is not as simple as just deleting all of your files. It actually requires a process called "zero-filling the drive," a process that is explained in detail at the provided link.
Once you have followed all of those steps and completely cleared your hard drive, you are ready to dispose of your old hardware. You should look into finding an e-waste disposal site. You can simply search for "e-waste disposal" in your area, which should give you a list of locations. At an e-waste disposal location, they will separate the metal from the plastic so each can be separately recycled. This is beneficial in two ways: One, it's better for the greater ecosystem, as no harmful substances will go into the ground, and two, the valuable metals in your old computer will be extracted from the electronics and reused. E-waste sites are rapidly growing in number as the great demand for healthy, proper recycling of old computers grows globally. It is the best thing, both for you and the planet (as well as those who will benefit from buying products made from recycled silicon and other metals), to recycle your old computer in this way.
So, erasing and recycling your old computer at an e-waste disposal site will do the following:
Prevent cybercriminals from scavenging and exploiting your discarded data
Help the environment via safe, ecologically-friendly disposal
Help consumers keep hardware manufacturing costs lower by salvaging the metallic parts from your hard drive
Prevent clutter in landfills, junkyards or salvage shops
Need More Advice About Proper Computer Disposal?
If you require further advice about proper computer disposal and recycling, Radius Executive IT Solutions is a proven leader in providing IT consulting and hardware rollouts in Boston. Contact one of our expert IT staff at (978) 523-2174 or send us an email at info@radiusits.com today, and we can help you with all of your computer erasing, disposal, and recycling needs.