Attempting to run your business when you are away from the office can be challenging and time-consuming since keeping up with operations and sales means having to continuously check your emails, text messages and social platforms.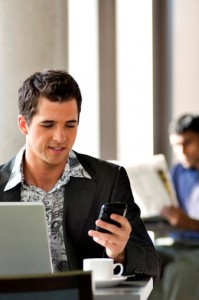 Here are five mobile apps that can help you save time while you effectively manage more of your business from your phone.
When it comes to web-based project management tools, Basecamp is widely considered to be the best. The mobile app version retains most features and enables you to view files, create, assign, and complete tasks, add items for discussions and more. This way, you'll be able to manage several projects at once while ensuring that everyone is on the same page.
Google Hangouts. While instant messaging is useful, Google Hangouts are undeniably more effective for achieving fast communication with a group. Furthermore, the versatility of this app allows you to switch back and forth between video, chat and voice call.
Google Admin. If you already use Google Apps for Work, then Google Admin will make your life much easier. The app enables you to create new users when you hire new employees and easily reset a password if someone forgets. Additionally, you'll be able to create new groups whenever the need arises to organize marketing and sales support. Plus, you can set up alias emails and manage all of your users right from your phone.
Salesforce A. Salesforce is effective for managing customer relationships. The mobile app for administrators, Salesforce A, allows you to achieve more by modifying user permissions, creating new user profiles, and updating page layouts with just a few taps on your phone.
HootSuite. Maintaining an active presence on social media allows you to manage your company's image and reputation and helps you to shape public opinion about your business. With the HootSuite app, you can stay on top of social media from anywhere. This means having your Twitter, Facebook, LinkedIn, and Google+ all in one place to re-post new media coverage and re-tweet positive comments from customers.
All of these mobile apps are free. Whether you choose to download one or all five, you'll be better equipped to manage business operations from your phone.
If you would like more information or need assistance in downloading these apps, contact us at (978) 523-2174 or send an email to info@radiusits.com.