Providers looking for LTC EMRs know that long term care settings are very different from hospitals and physicians' offices. EMRs developed for acute or ambulatory care settings have very different functionality from those designed for LTC settings. They may not convert to long term care use. This is why you should look for an EMR/EHR that is specifically designed for the clinical and operational needs of LTC settings. PointClickCare is one to consider.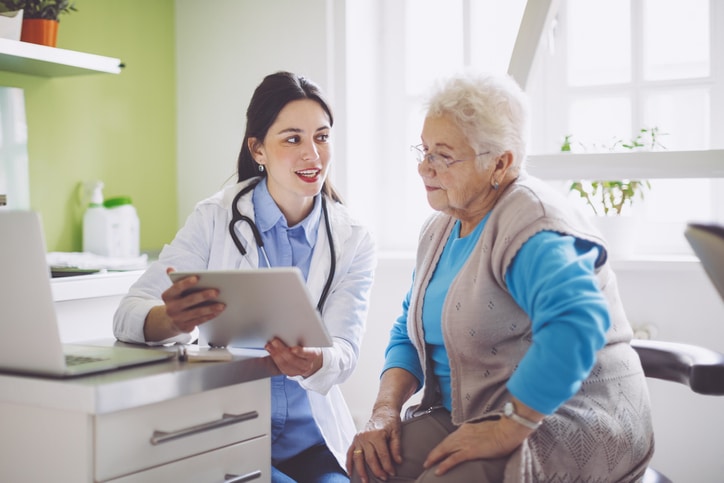 Have You Checked Out PointClickCare For Your LTC Facility?
PointClickCare is designed for the long-term and post-acute care (LTPAC) industry. This is a feature rich, easy-to-use EHR solution for the LTC space. It's used by more than 15,000 senior care providers from small independent homes to multi-facility organizations and campuses across North America. It helps providers deliver better care and services while ensuring optimized revenue potential.
It can be used on Windows and Mac devices and comes as a Web-based solution as well.
What Features Are Included In PointClickCare?
PointClickCare provides a subscription to clinical, billing and administrative modules. You can even assess marketing efforts through their referral management solution. Users can track calls and activities via electronic recording to evaluate success in raising occupancy rates. It also has a Customer Relationship Management functionality, provides for pre-admission eligibility checks and monitoring for insurance coverage.
It helps teams manage workflow, remotely track patient/resident compliance, check progress for practitioners and improve the quality of patient/resident care. It also offers Point of Care on touch-screen devices, medication and nutritional management, and a platform for HIPAA-compliant text messaging.
Features include:
Admissions Management
Billing & Invoicing
Incident Management
Medication Tracking
Staff Management
Care delivery management
Marketing
Financial management
Business intelligence and analytics
Quality and compliance
Claims Management
Clinical Care
Geriatric Care
MDS Review
Patient Records
Referral Management
One of its most useful features is the care management module. This is designed to help care teams prioritize care for their residents/patients. PointClickCare has a user-friendly dashboard with a real-time task list and notification feature that let users take quick actions to handle the most critical care concerns.
It's user-friendly and can be used to consolidate options like medication management, Point of Care (POC) services, skin and wound care, nutrition management, practitioner engagement, and secure conversations.
All the modules integrate easily so caregivers can share insights on care plans and accelerate the decision-making process to improve care delivery. Another useful feature is its business analytic module. It includes reports, PointClickCare analytics, pro-tracking analytics, and MDS analytics. This enhances decision-making capabilities by unifying the analytical tools for effective data unity. You can use it to convert raw data into helpful insights that improve quality care delivery.
What Other Specialties Does The PointClickCare EMR Serve?
PointClickCare can be used in Skilled Nursing Facilities, Senior Living and Home Care environments. Whether you operate in the skilled nursing, CCRCs, senior living, or home and community-based services space, PointClickCare provides a competitive edge via coordinated care delivery and service excellence regardless of the size of your practice.
Is PointClickCare Available In The Cloud?
PointClickCare's cloud-based platform supports the largest network of senior care providers in the LTPAC market. The reason is that it's so simple to use and it delivers technology to connect providers across the LTPAC continuum.
Its cloud-based modules include features for management of care delivery, finances, marketing, business intelligence, medication, nutrition, and quality and compliance. It helps users achieve regulatory compliance, prevents missing documentation, improves reimbursement accuracy, reduces duplicate entries and even has a platform for HIPAA-compliant text messaging.
Can You Pick And Choose Individual Modules?
Yes, PointClickCare enables administrators to subscribe to clinical, billing and administrative modules. Modules help users assess marketing efforts through PointClickCare's referral management solution, track calls and activities and create an electronic record to evaluate success in raising occupancy rates. It also provides CRM functionality, pre-admission eligibility checks and insurance coverage monitoring.
Why Is PointClickCare So Popular?
Providers using PointClickCare receive 7x more hospital referrals than any other providers. This is why PointClickCare has been selected by 75% of providers since 2013. Users like its cloud-based modules that include care delivery management, financial management, marketing, business intelligence, and quality and compliance. It helps them achieve regulatory compliance, ensure reimbursement accuracy, prevent missed documentation, and reduce duplicate data entry. Users like that there are many add-ons that interface with other programs, and that all departments can work on the same system.
The PointClickCare EMR System gets a 4.5 out of 5 stars from reviewers.
Want To Learn More About PointClickCare And Other EHR solutions?
For more information, contact Radius Executive IT Solutions in Stoneham, Massachusetts.
Did you find this article helpful? Check out Our Blog where you'll find many more:
Who Are The Real Victims Of Healthcare Data Breaches?
How Can I Tell If My Business Needs Managed Care Services?