Best Way to Improve Cybersecurity? Train Your Employees!
Why an informed team is your organizations best defense against cybercriminals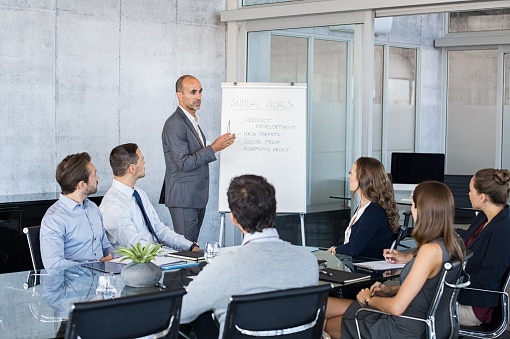 Cyber attacks and data loss are the last thing any organization wants to fall victim to. In an increasingly digital workforce, companies are investing in all kinds of cybersecurity efforts to ensure the bad guys can't invade their business network. This kind of security is even more important in professional services industries like finance, law and government. The more sensitive the data, the more cybercriminals want it.
The world of Information Technology is definitely evolving and rising to meet the increasing threat. However, even as technological solutions and regulatory standards are developed, the cybercrime landscape is increasingly sophisticated and complex.
Particularly, preventing cybercrime can be incredibly difficult considering the vast majority of cybersecurity issues occur as a result of human error. That's right. Your very own employees should be your number one concern when tightening cybersecurity. Even worse? These internal threats can be very hard to identify and address because they're so pervasive and widespread. The bottom line is that without a 'cyber-literate' team, your business network will always be open to increased threat.
How An Educated Team Helps Secure Your Network  
Helping your staff become and stay 'cyber-literate' is critical based on the very fact that most cases of data breach and loss result from an employee's lapse in judgment. Whether the internal threats you face are malicious – like a disgruntled and spiteful worker – or more benign – like an employee who struggles with basic email technology – facing them head-on is critical.
Minimizing human errors like downloading malicious files or clicking a malicious link can make a world of difference in reducing your vulnerability to cybercrime. So, what's the best way to minimize human error? Educate and empower your team to be their own cybersecurity experts. Without driving awareness and understanding, your team will never be truly prepared. Take the reins and help your team better identify, respond to and report suspicious cyber activity.
Not Just a Security Boost: How Security Awareness Training Improves Employee Morale and Retention 
The really great thing about security awareness training is that it really isn't just about tightening security. Taking the time to invest in security awareness training for your staff can be a major team-building and morale-boosting initiative. Offering your team specialized training and professional development helps you communicate just how valuable they are to your organization. Even better, it makes them want to stick around – meaning your employee retention rates will be nurtured.
You may be asking: how in the world does security training make my team more committed and loyal. The answer is simple: when you include your team in mission-critical tasks, they know they're important and valued pieces of the puzzle. It really is that simple. If your employees feel valued, included and taken care of, they will be better advocates for your organization as a whole. This means they'll be more committed to realizing objectives and making sure the company has all its bases covered.
Plus, it doesn't hurt that security awareness training can be an exciting break from the boring and mundane tasks of the regular workday. Who doesn't want a job with a little bit of excitement built in? By working with your team to research and understand cyber threats – both internal and external – your team gets to focus on something new and out-of-the-ordinary. You can even let your team spearhead initiatives and stage simulation attacks to keep co-workers on their toes. Make it even more fun by creating internal competitions or offering incentives. Do whatever it takes to help your team become the masters of the technology they use day in and out.
Overall though, the biggest benefit of security awareness training for your staff is the overall improvement of your organization's success. With a happy, informed and productive team, your network is safe and more secure from threats of all kinds. Undertaking an educational and fun team approach to cybersecurity really makes all the difference in producing positive and lasting results. Don't leave your cybersecurity discussions limited to manager meetings behind closed doors. Involve your team, ask for their input and make sure everyone is on the same page. This is a surefire way to keep your team feeling valued and your company successful.
Empowering your Team: Tips for Effective Security Awareness Training
So, it seems like a no-brainer: get your staff well-versed in cybersecurity objectives and all will be well, right? This is true, but it's critical to go in with a plan. Creating an effective security awareness training program for your team means you must keep a few baseline suggestions in mind. Using these suggestions as a starting point will help you develop a custom-tailored plan to meet the needs of your business and ensure all your cybersecurity concerns are shared with your team.
Check out these preliminary suggestions for effectively training your team in all things cybersecurity:  
The first step is knowing where exactly you need your team to be extra vigilant. Are email phishing scams your biggest concern? Do you need your team to be more careful with sharing access control data? Whatever your weak security spots are, be sure to identify them and discuss them transparently with your team.
Of course, you want to make sure your team is aware of the threats you face, but the last thing you want to do is scare them into silence or make them constantly dread an impending security crisis. As much as possible, keep it light and keep it fun. Avoid the doom and gloom and find ways to make this a team-building exercise instead of a divisive warning.
The best thing you can do when working to train your staff in all things cybersecurity, is to let them lead the charge. Ask their opinions about various threats. Allow them to offer strategic suggestions and provide their input. The more you empower your team to take initiative, the better they will be at protecting data on the frontlines.
Another great suggestion when undertaking security awareness training for your team is to check in with a local team of IT security experts. If you're wondering how to start and what you should focus on, consultation with a strategic IT partner can make all the difference in getting you and your team on the right path. IT professionals have the experience and expertise to help you build a strong internal cybercrime defense.
No matter what industry you're in, helping your team better understand cyber threats and strategies for mitigation is critical to the success of any modern business. The last thing you want is for one of your team members to inadvertently welcome cybercriminals into your network. You really don't have to live with this constant fear. Take the initiative to get on the same page as your team – let them know the threats you face and empower them to take action in anyway you see fit.
Once you have your own team prepared and in your corner, you'll be better able to take on any cybercrime battle that comes your way. Consult with a team of professionals to find out exactly what you and your team should be doing to stay secure.