What Small Businesses Need To Consider When Outsourcing The Security Of Their Business Network
Small businesses are the backbone of the economy, but they face unique challenges regarding cybersecurity.
Unlike large corporations, small businesses often lack the resources and expertise to defend themselves effectively against increasingly sophisticated cyber attacks. As a result, small businesses are disproportionately affected by data breaches and other cybersecurity threats.
According to a recent study, 43% of cyber attacks target small businesses. This statistic is particularly alarming given that 60% of small businesses that suffer a cyber attack are forced to shut down within six months.
These numbers highlight the importance of cybersecurity for small businesses. While there is no silver bullet for preventing all cyber attacks, there are steps that small businesses can take to reduce their risk. For example, small businesses should invest in robust security software and create comprehensive cybersecurity policies.
In addition, small businesses should partner with an IT outsourcing firm that can best provide expert guidance on how to protect their networks. By taking these measures, small businesses can increase their chances of surviving and thriving in the face of growing cybersecurity threats.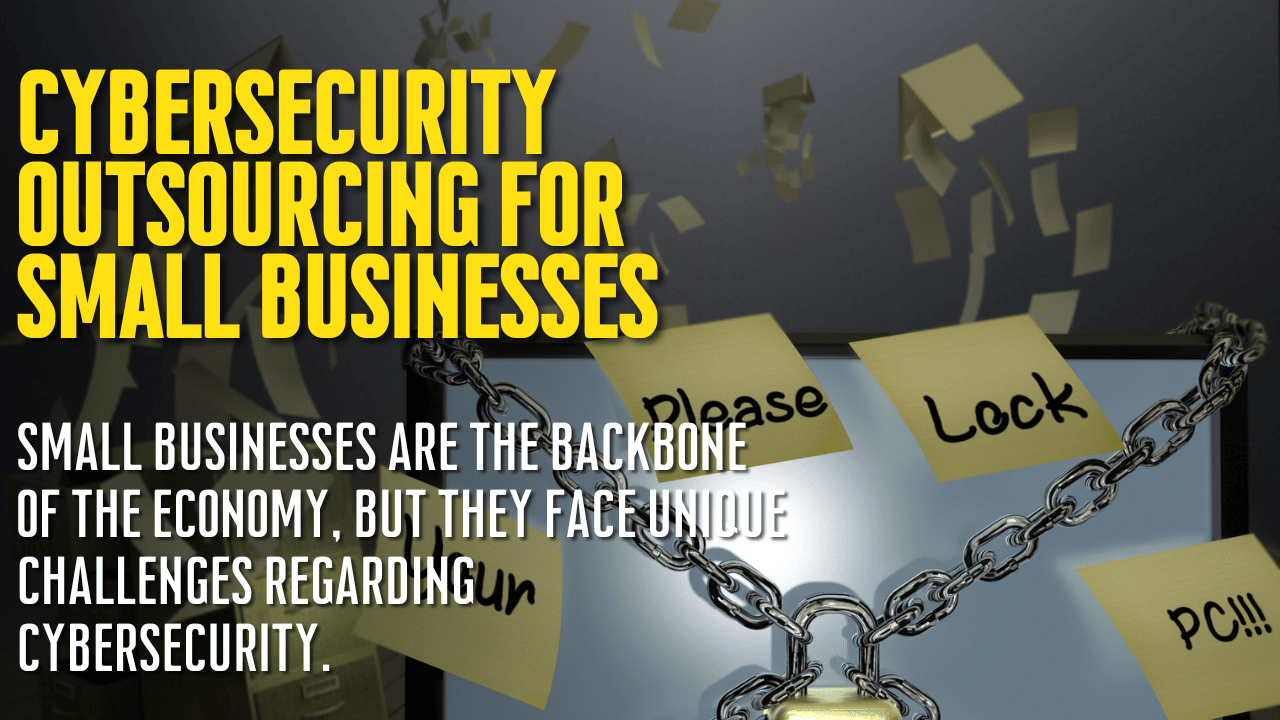 Is Outsourcing Your Cybersecurity The Right Answer?
Outsourcing is often a sound decision regarding the security of your business network. As mentioned above, many small businesses lack the internal resources to defend adequately against even the smallest cybersecurity event.
Having an outsourced cybersecurity partner you can trust is a very wise decision.
Your outsourced partner will have the experience and the manpower to quickly identify and mitigate security threats. In addition, they will be able to provide you with regular reports on the state of your network security, so you can be confident that your business is protected. Deciding to outsource your network security is important in protecting your business. With the right partner, you can be confident that your business is safe from potential threats.
Here are just some of the services your outsourced cybersecurity partner must provide.
Cybersecurity Training
Cybersecurity risks constantly evolve, and businesses must keep up-to-date with the latest threats. One way to do this is through cybersecurity training. Businesses can reduce the risk of a successful attack by ensuring that staff and leadership are properly trained to identify and respond to cyber threats.
Cybersecurity training can cover many topics, from basic security measures to more advanced responses to sophisticated attacks. By making sure that all staff members are aware of the importance of cybersecurity and the steps they can take to protect themselves, businesses can create a strong first line of defense against any potential threat.
Regarding cybersecurity, training is essential to keeping your business safe.
Managed Detection & Response
In today's business world, data security is more important than ever. With hackers becoming more sophisticated and cyber attacks becoming more common, it is no longer enough to monitor your network for threats simply. Instead, you need a comprehensive cybersecurity solution that includes both detection and response.
Fortunately, many companies offer these services. By working with a partner that specializes in cybersecurity, you can rest assured that your data is safe from both external and internal threats.
In addition, a good cybersecurity partner can help you recover from an attack quickly and efficiently, minimizing downtime and disruption to your business. In today's climate, having a reliable cybersecurity partner is essential to protecting your business.
Trained Cybersecurity Professionals
In today's IT community, cybersecurity services are a hot topic. Like cloud and backup/recovery were in the previous years, everyone today is a cybersecurity expert. However, very few people carry the credentials to protect you, your business, and your livelihood properly. that's where we come in.
At our IT company, we offer trained and certified cybersecurity professionals who can help you secure your data and prevent future attacks.
We understand the importance of keeping your data safe and sound, and we'll work tirelessly to ensure your business is protected. Contact us today to learn more about our cybersecurity services and how we can help you safeguard your business.
Cyber Risk Insurance
As a small business owner, you know that cyber risk is a big concern. You also know that your IT company can't offer you cyber risk or liability insurance.
However, they must know what to look for to ensure your small business has the right coverage and that all the answers on your cyber liability insurance questionnaire are properly answered so that a future claim is never denied.
Here are four tips to help your company make sure you have the right coverage:
Assess your risks. This will help you determine what coverage you need and how much.
Make sure all the cyber liability insurance questionnaire questions are answered correctly. If any of the answers are incorrect, it could lead to a denial of a future claim.
Review your policy regularly. Cyber risk constantly evolves, so it's important to keep your policy up-to-date.
Work with a reputable broker who specializes in cyber liability insurance. They will be able to help you find the right coverage for your business at the best price.
Small Business Cybersecurity Is Paramount
Small businesses are increasingly becoming targets for cyberattacks. This is because small businesses often lack the robust cybersecurity measures that larger businesses have in place.
Hackers, scammers, and organized crime groups always look for new ways to attack small businesses. This is why it is essential for small businesses to have the right cybersecurity solutions in place. There are various cybersecurity solutions available, so choosing the ones that are right for your business is important.
Ensure you have a firewall, an anti-virus program, and malware protection. In addition, it is important to educate your employees about cybersecurity risks to be vigilant about protecting your business.
Taking these steps can help ensure that your small business is protected from cyberattacks.